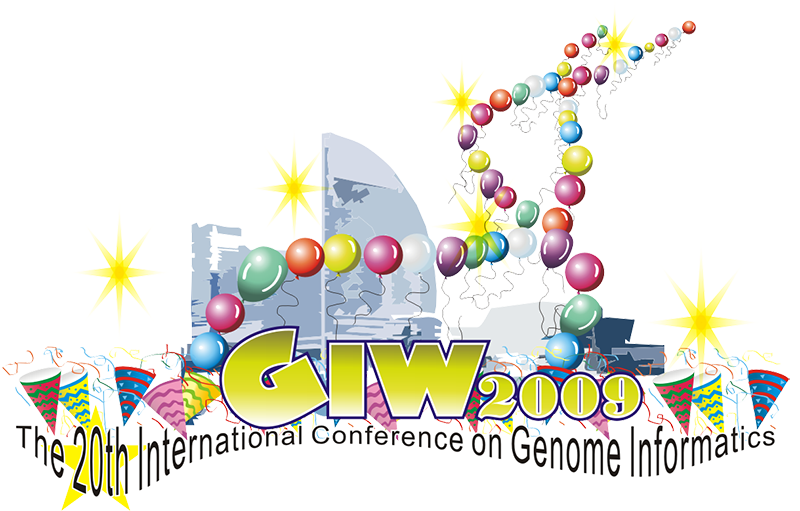 The 20th International Conference on Genome Informatics
will be held at PACIFICO YOKOHAMA, Japan
on December 14-16, 2009.

NEWS
GIW2009 BEST PAPER AWARD
"Tools for Investigating Mechanisms of Antigenic Variation: New Extensions to VarDB"
C.Nelson Hayes, Diego Diez, Nicolas Joannin, Minoru Kanehisa, Mats Wahlgren, CraigE. Wheelock, Susumu Goto
"Localized Suffix Array and Its Application to Genome Mapping Problems for Paired-End Short Reads"
Kouichi Kimura, Asako Koike
Oxford Journals - JSBi Bioinformatics Prize (Best Poster Award)
"Dynamic Programming Algorithms for RNA Structure Prediction with Binding Sites"
Unyanee Poolsap, Yuki Kato, Tatsuya Akutsu
TOPICS
Genome Informatics Workshop (GIW) is the longest running international bioinformatics conference, which has provided unique opportunities that bridge theory and experiments, academia and industry, and East and West.
This year's GIW is the 20th anniversary.
The scope includes all work that is ultimately devoted to the computational understanding of biological systems on a molecular basis and the aims are to present recent results of both theoretical and practical research, to show new applications, to demonstrate systems, and to indicate directions of future research.


CALL FOR PAPERS, POSTERS & SOFTWARE DEMONSTRATIONS
We are calling for papers, posters of avant-garde research and demonstrations of software equipped with the most up-to-date methods.
KEYNOTE SPEAKERS
REGISTRATION
COMMERCIAL EXHIBITIONS
OTHER INFORMATION
PROGRAM COMMITTEE
ORGANIZING CHAIRMAN
SPONSORS
CONTACT
GIW2009 OFFICE
giw2009 AT edelweiss.ims.u-tokyo.ac.jp
Human Genome Center, Institute of Medical Science, University of Tokyo
4-6-1 Shirokanedai, Minato-ku, Tokyo 108-8639, Japan
GIW + 90 + 91 + 92 + 93 + 94 + 95 + 96 + 97 + 98 + 99 + 00 + 01 + 02 + 03 + 04 + 05 + 06 + 07 + 08